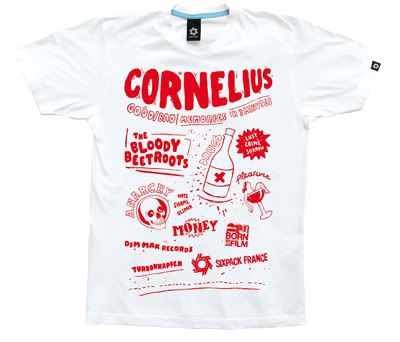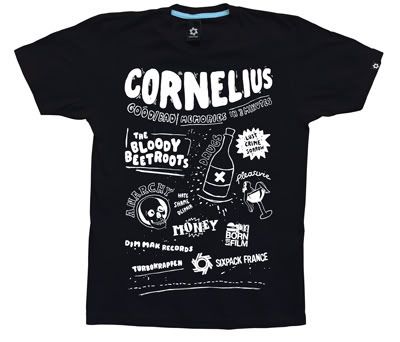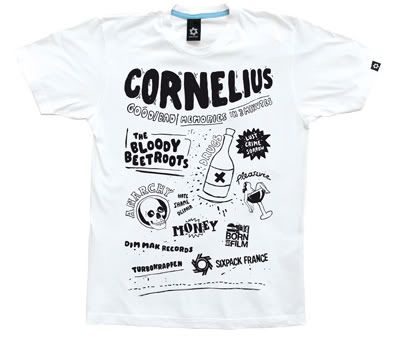 Después de todo el éxito que tuvieron los Bloody Beetroots con su música, han empezado miles de colaboraciones bajo cada punto de vista, artisticas, moda, música, video.
Por lo que tiene que ver con moda, despues de la salida al mercado del 18 diciembre 2009 (día del cumpleaños de BOB, componente de los bloody, junto con Tommy), del EP Cornelius, otro proyecto de Bob, han producido unas camisetas en colaboración con la marca francesa SIXPACK, con gráficas creadas por Turbo Krapfen.
Sir Cornelius es un personaje inventado, es un agente secreto, de sexualidad ambigüa, inventado por el escritor británico Michael Moorcock.
El video constituye la historia de Cornelius; Matthieu Danet, de Born to Film, ha seguido a Bob durante todo el tour australiano, para siete días, grabando todo lo que pasaba y siguiendo las historias escritas por Bob.
Aquí os dejo el video de Cornelius, y de mientras os digo que los Bloody Beetroots estarán en Barcelona, por segunda vez, el 7 de febrero, y esta vez con el great Steve Aoki, lugar aún indefinido, pero en cuanto Bob me enviará un sms, pues os avisaré.
After the success got with the music, Bloody Beetroots are getting bigger and bigger with plenty of colaborations, in art, music, video and now fashion as well. They've produced T-shirt in collaboration with the french label SIXPACK. Bob was born in 1977, this is one of the main reasons why he gets inspired by the great Vivienne Westwood.
The graphics are from Turbo Krapfen.
Sir Cornelius is a secret agent with a dubious sexuality, created by the british writer Michael Moorcock.
The video is a summary of what has been the seven days tour in australia, done by Mathieu Danet, following the djs as much as the history written by Bob.
So, we'll have the pleasure to see them here again, for the second time in Barcelona, the 7th of February, but this time together with Steve Aoki, place still undefined, I'll tell you as soon as I get Bob's sms.
ENJOY THE VIEW: